How we helped this not for profit organisation with their online presence
The LOFT asked us to redesign the website for their not for profit organisation in late 2020. Their old website was outdated with old content and images. They felt it didn't reflect the needs of their target audience. They wanted the new website design to appeal to young people and families in the Cabra region. As a not for profit they rely on community support. This website will let people know how The LOFT can help them.
Marian and her team in The LOFT are VERY SUPPORTIVE. This is the message we wanted to convey to people in Cabra. We decided to make the new design vibrant and engaging to attract new visitors.
The LOFT offers support for substance and alcohol misuse. We designed the website pages to be warm and inviting. We used colours from their brand combined with other vibrant tones. We analysed existing websites to understand how not for profit organisations perform online. We examined what elements would work well with The LOFT's target audience.
We broke each page down into sections to allow visitors to read the content easily. Substance misuse is often misunderstood. It has alot of negative sentiment with the general public. The LOFT wanted their new website to be an inviting, safe space. We chose colours that were inviting and images that were not misleading. The aim of this design was to be informative and to welcome community support.
Recovery Month September 2021 #RecoveryMonth
The LOFT are participating in Recovery Month in September 2021. A number of not for profit organisations in Dublin have come together for Recovery Month. Events are running all month to help people with substance and alcohol recovery. We built a custom event calendar into The LOFT's new website. This allows them showcase all of the events. This new calendar will improve interaction with their not for profit organisation.
We also designed a Blog for The LOFT to provide updates on #recoverymonth. To help encourage interaction we designed a popup for Recovery month. When clicked people can see all of the articles and upcoming events.
Their new website helps them engage with people affected by substance misuse. This includes young people, local families and other individuals.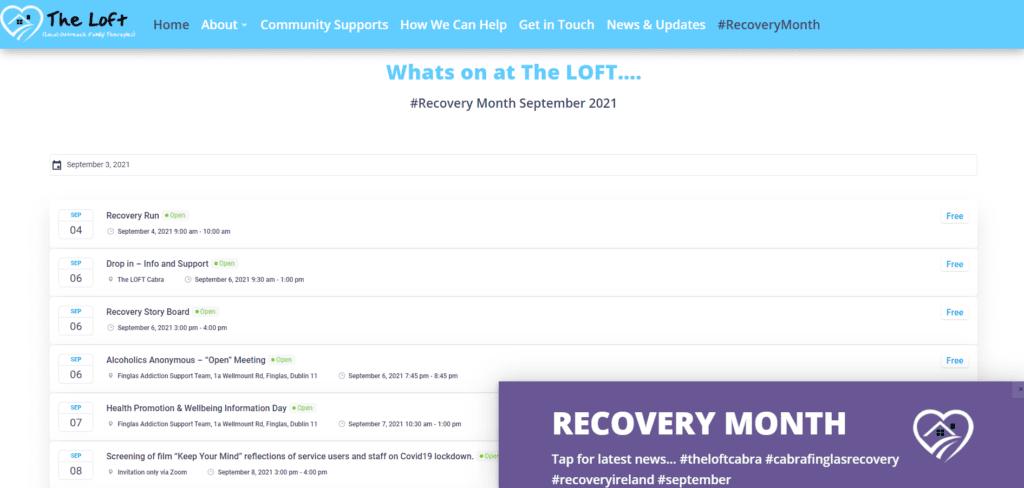 We worked closely with Marian and her team over a number of weeks. This helped us understand what content should be on their new website. We then built and launched the website based on their vision. This website allows people engage with their not for profit in a confidential way. This is something that cannot be achieved through social media. The new website encourages visitors to engage with this not for profit organisation 24/7.
About The LOFT:
"The Local Outreach Family Therapies" (The LOFT) is a community-based project. It is based in Cabra, Dublin and is a not for profit organisation. They support people impacted by alcohol or substance misuse.
They are an accessible and community-based service. The LOFT wants everybody in Cabra to have access to support.
Unique features in this Website:
This is a bespoke website design created for The LOFT's audience. It meets the needs of a not for profit organisation. We want this website to reach those affected by substance misuse. Some unique features of this website build include;
Events calendar
Popups for news / events
Custom form for inquiries.
A blog feed for news and updates
A personalised contact form for volunteers to apply
An organised layout for all of the information provided.
Full SEO optimisation throughout the site.
PDF Documents embedded in the website
Designed to allow the LOFT to easily share upcoming events
Easy to update content for staff in The LOFT
Calls to action throughout the website to encourage interaction
Would like a not for profit website like The LOFT's? Please let us know and we will help you.
Audio Description of this Website Build
See this website in action: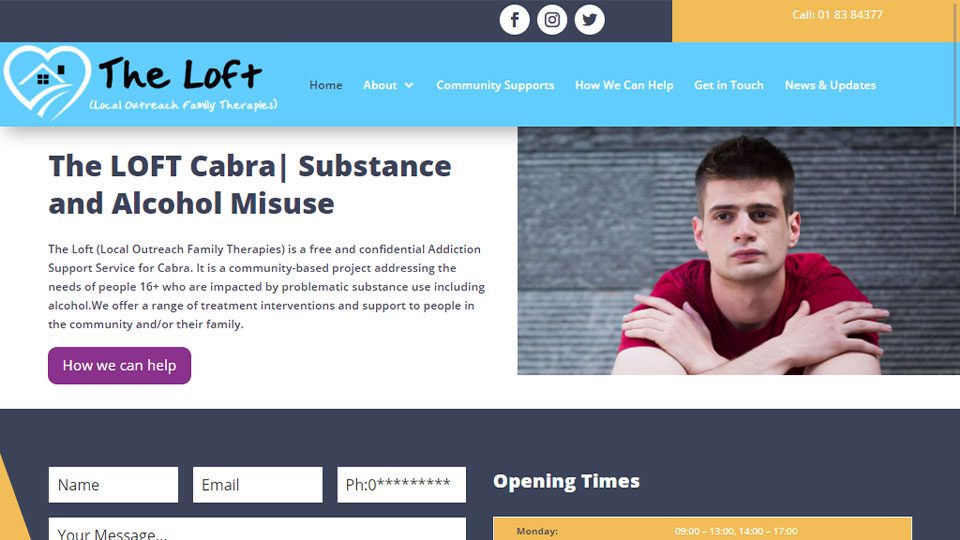 Website URL: https://theloft.ie