How we helped Next Generation Plastics with their online presence
NGP approached us in 2020 to launch their new plastic fence products online. They are an innovative design and manufacturing company based in Meath Ireland. They specialise in recycled plastic product design. Their products include:
recycled plastic fences,
plastic furniture,
plastic planters,
and plastic bollards.
When NGP approached us they wanted a one page Starter website to get their business online. At the time they were only offering plastic fence products. Their other innovative products were still in development.
They wanted to target farmers, agri stores and hardware stores across the country. Over 2021, they increased their product lines and their range of products. In turn, their website needed to expand to accommodate the display of these products. We upgraded their website to a Growth build to allow each product to have its own page. This allows NGP rank for each product offering and improves their reach on Google.
About Next Generation Plastics – Plastic Fence and Plastic Product Manufacturer
Next Generation Plastics are Ireland's leading manufacturer of recycled plastic products. Their headquarters are in Co. Meath and are selling products all over Ireland. They produce:
Plastic Fencing
Plastic Furniture
Plastic Planters
Plastic Bollards
Their products are long lasting and durable in all weather conditions. They design and manufacture all their products in Ireland. They use 100% recycled plastic in the manufacture of their products. They offer fast lead times and high quality products for homes, farms and businesses.
Unique features in this Website:
We were happy to help NGP get started and grow online. Their website has grown alongside their business growth. They upgraded their website from a Starter Website to a Growth Website. This gave them the chance to rank in Google for each of their individual products. We conducted thorough SEO Research and implemented SEO across the website.
We encouraged them to take plenty of photos and videos of their work from the beginning. We have added all this wonderful content to their new website. This content is getting them results online and shows people their products.
We are delighted that Next Generation Plastics are expanding their online presence. It is great to see their business is growing and we wish them every success in the future. We enjoy supporting Irish businesses especially those in the innovation and production sector! If you would like to learn more please visit their website at https://www.ngp.ie/ . You can also support this local Recycled Plastic Products Manufacturer on Social Media.
Some unique features of this website build include;
Website designed in keeping with their brand
Individual pages for each of their recycled plastic products
Easy to add video content via Youtube integration
Custom contact form for inquiries
A blog feed for news and updates
Full SEO optimisation throughout the site.
PDF Documents embedded in the website
Designed to allow NGP to share updates about new products
Calls to action throughout the website to encourage interaction
Social media feeds including Youtube videos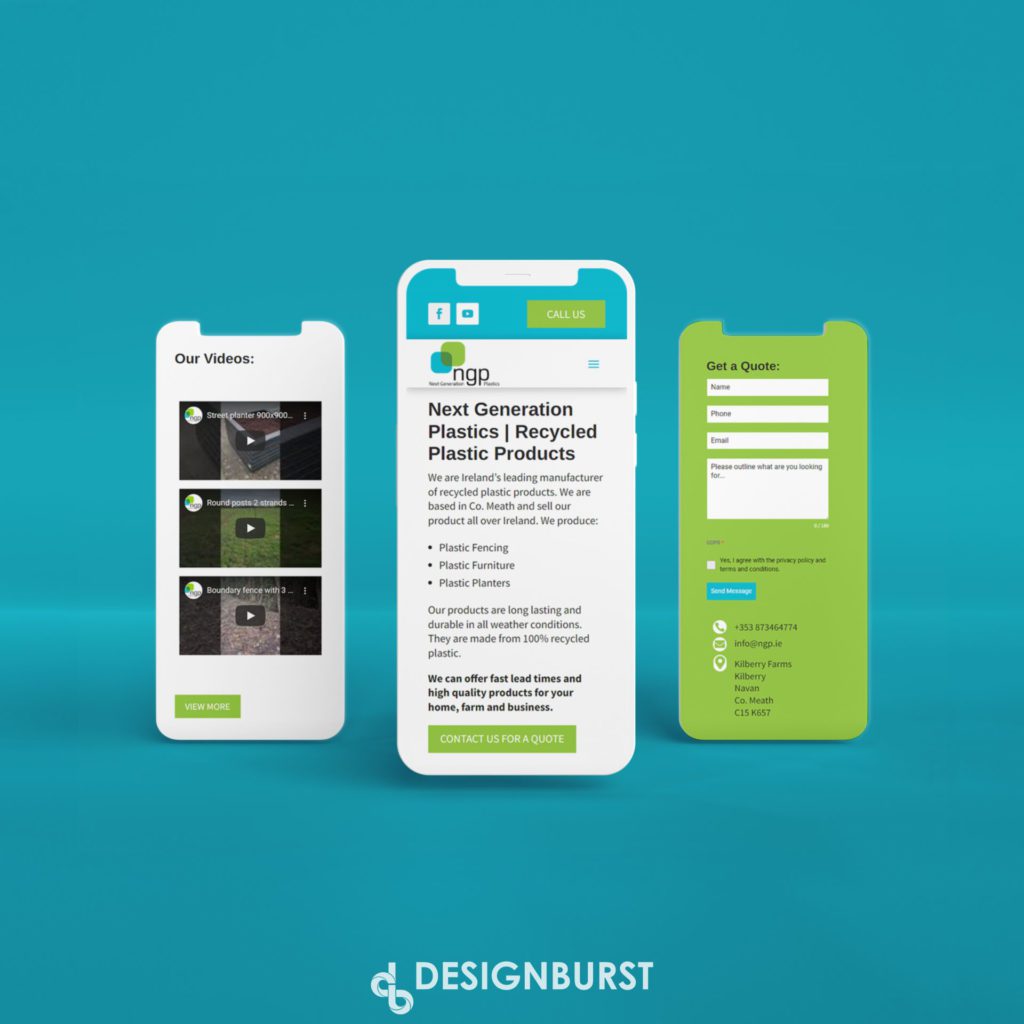 Would you like a manufacturer website like NGP's? Please let us know and we will help you.
Audio Description of this Website Build
See this website in action: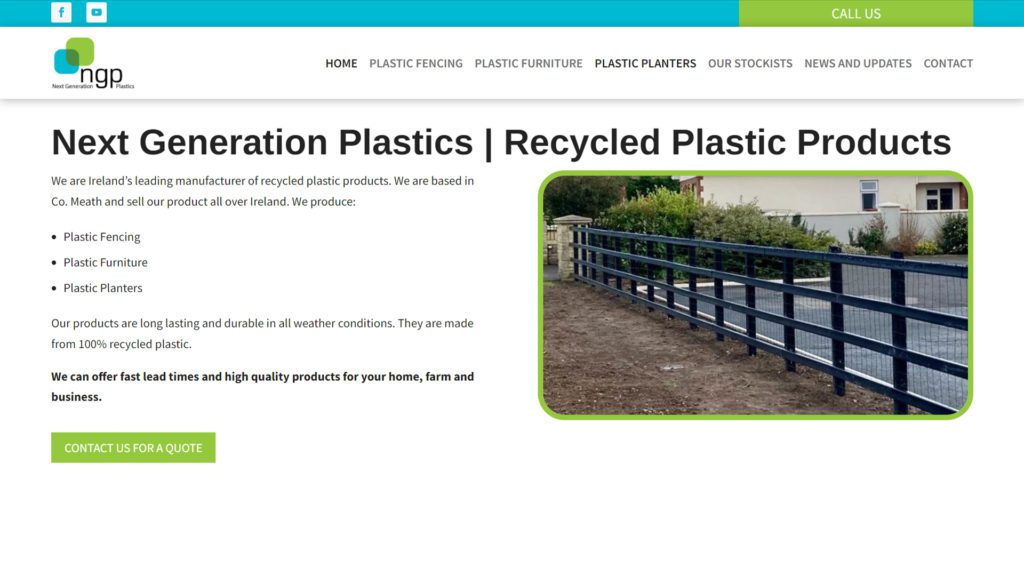 Website URL: https://ngp.ie