Business Success Story for this Labelling Systems Manufacturer
Robo Apply are an innovative Irish business who build automated labelling systems. Daniel Spaight the founder approached us in May 2022 to build him a website for Robo Apply. Daniel attends a lot of business networking events and wanted a website to point people to.
Robo Apply Site Visit
The Local Enterprise Office in Meath have supported Robo Apply over the past two years. They visited his premises in May and shot a great promo video for Daniel.
We visited Robo Apply in May 2022 to gain insight into what the business does. This visit was important as the work Daniel does is quite complex and difficult to explain by phone.
Robo Apply work with many leading Pharma and Packaging businesses. They build machines to help them automate their labelling systems. Daniel explained why he needed a website and that he is too busy to even think about what he needs to do.
Choosing a website type to grow over time
We suggested he begin with a Starter Website Design. This website allows him list his business in Google and allows him get inquiries 24/7. A lot of Daniels ideal customers have a base in the US so it is important they can contact him from their time zone. The form in Daniels new website permits this contact around the clock.
Over time Daniel will be able to upgrade his website to a Growth Website or even an Enterprise Website when he has the time and resources to grow his business online.
We worked with Daniel to get the wording right for his new website as we do not want to alienate his customers. We performed competitor research and found phrases for him to use to rank online. Daniel can now write articles about his new inventions and his awards and rank in Google.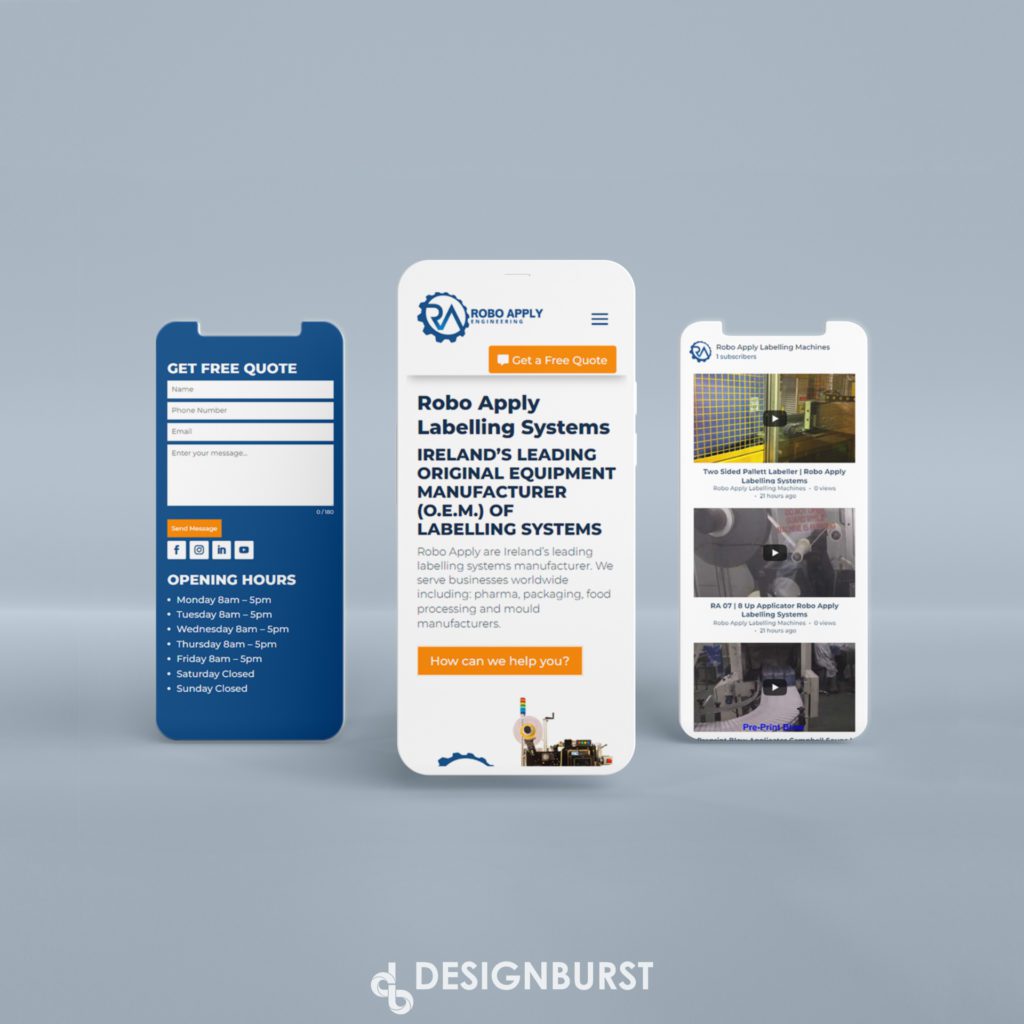 About Robo Apply
Daniel Spaight is the managing director of Robo Apply. He has vast experience in machine design and has worked in Japan and America. This led him to develop the Robo Apply RA03 Print & Apply Label Applicator. This machine prints and applies intelligent labels to various products. This happens at speeds of up to 3 labels per second, and placement accuracies of 0.01mm.
Robo Apply was set up in Ballivor in 2019. This 3000 square foot premises uses 3 phase electricity to run the machine shop. All label application machines are custom built on-site in the Robo Apply headquarters.
Robo Apply won the Meath Local Enterprise Office award in 2021 and were finalists in the National Enterprise Awards Ireland 2022.
Unique features in this Website
Bespoke website design to suit Daniel's Ideal Customer needs.
Custom contact form for inquiries.
Video feeds and YouTube integration.
Product Specifications.
Client logos for reputation building
Social media feed which connects to his business Facebook page.
If you would like a website like Daniel's please let us know and we will help you
Audio Description of this Website Build
See this website in action: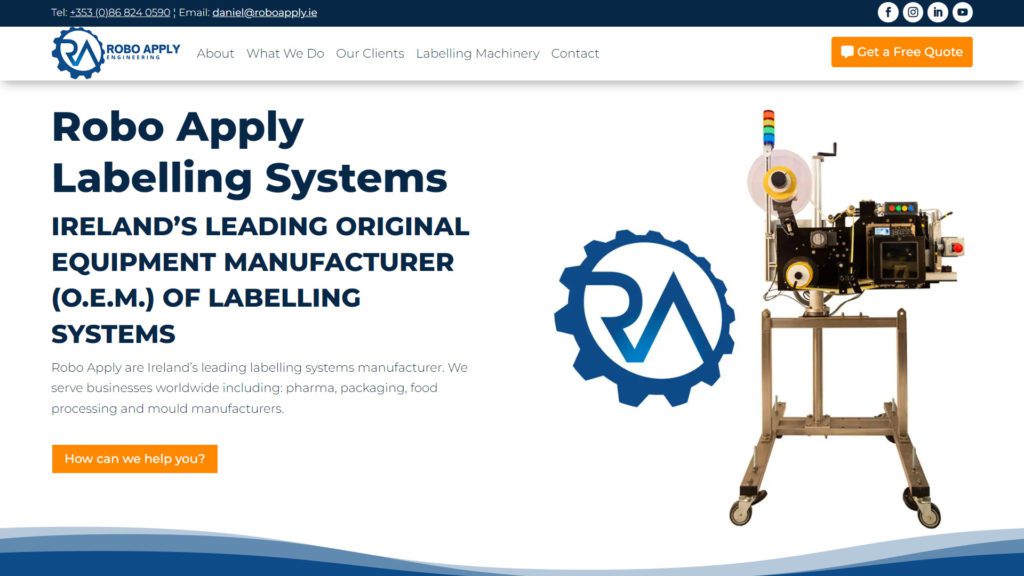 Website URL: https://roboapply.ie/