Cossmacadam offers tarmacadam driveway services to homeowners in Leinster Ireland. He has a niche target audience. We performed SEO throughout his website to help him rank in Google. This has proven a very successful strategy for Cossmacadam.
Danny has received many enquiries for his tarmacadam services through his website. He can now get enquiries out of hours and when he is busy working. We created a Quote form on his website. This invites interaction and people can contact him 24/7. He then replies at his earliest convenience.
He wanted his website to stand out from competitors. He noticed that few people in his sector were online. When he Googled "tarmacadam" nobody local showed in the search results. He thought it would be good to rank in Google to serve local customer needs.
Danny's business now ranks in Google. Cossmacadam also shows in Google Maps. People in Lienster who want a tarmacadam driveway will find Cossmacadam online.
We used bright colours and vivid imagery on this website. We chose yellow as it is a colour used in Construction. It also is a colour used in road markings on tarmacadam. We wanted to showcase the quality of Cossmacadam tarmacadam driveways. The image of the roller skating on tar helped us to portray this quality in a fun way.
About Cossmacadam – Tarmacadam Driveway Specialists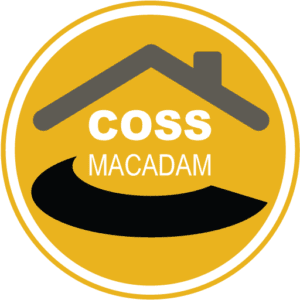 Cossmacadam is a driveway and road specialist based in Summerhill, Co. Meath. They are Vat registered and Company Assured.
Danny Coss is the founder of Cossmacadam. He is a tarmacadam driveway and groundworks specialist. This includes ground work, resurfacing driveways and stabilising ground for laying roads.
They are here to help you with all your resurfacing needs including:
Asphalt and Tarmacadam
Tarmacadam Driveways
SMA Tarmac for extra durability
Labour hire for sites
Unique features in this Scrolling Website:
We built Danny a bespoke tarmacadam services website. We designed this website to suit people who need tarmac driveways. Unique features of this build include:
Scrolling website design – just like scrolling on Facebook
User experience design to improve browsing
Colour palette to suit the construction sector
Contact form for inquiries.
Click to call buttons
Calls to action throughout
Opening hours
FAQs section
Full SEO optimization throughout the site.
If you would like a local business website like Danny's please let us know and we will help you.
See this website in action:
Website URL: https://cossmacadam.ie