Business Success Story for this Social Media Agency
In 2020 Eimer Duffy of FIT Social Media approached us to build her new website. She had an existing wordpress website that she had built herself. She wanted our team to build her new website to be more in-keeping with her brand and be easier to update.
About Eimer Duffy FIT Social Media
FIT Social Media is an Irish business based in Co. Meath. Eimer Duffy has over 20 years experience in marketing spanning a variety of sectors. Her company offers social media services to businesses worldwide.
A website to help businesses survive global lockdowns
When we designed Eimers website it targeted SMEs who required social media services. She offered consultancy services and developed specialised training programmes. She worked with companies all over Ireland helping them build and grow online. She also took part in many events for SMEs offering clinics and workshops. Banks, Local Enterprise Offices, Business Incubators and Universities worked with FIT Social Media.
During the 2020-21 Covid Lockdowns Eimer provided digital consultations with hundreds of businesses. Her expert advice gave countless businesses an opportunity to survive the global recession. In 2021 Eimer approached us to inform us that she planned on niching her offerings. We worked with Eimer throughout 2022 to build a new website for her new focus market.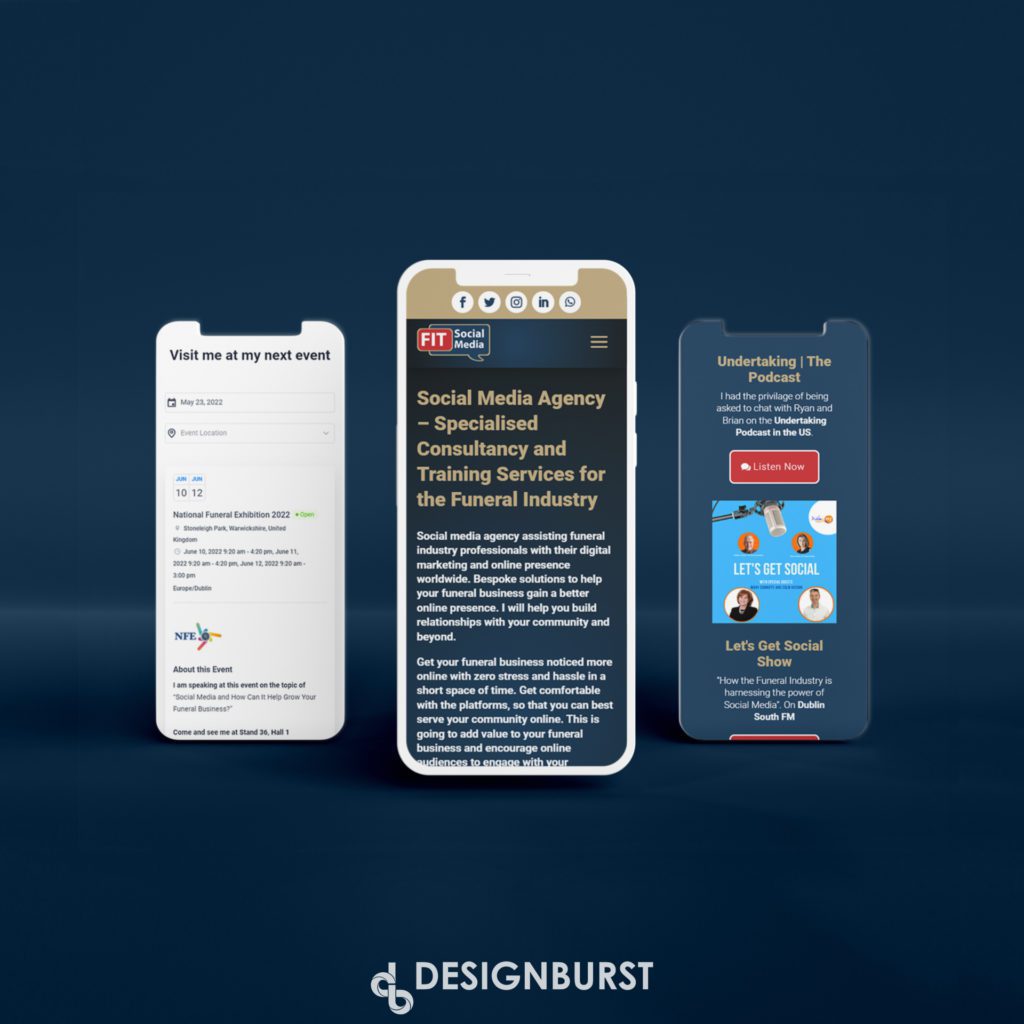 New year new website design
FIT Social Media now offers expert advice to Funeral Homes and businesses. Eimer made this decision after working with some local funeral directors. Often, planning a funeral is a taboo topic. Eimer works with Funeral businesses to help them make planning easier. This diversification required a complete overhaul of her website. The new website focusses completely on attracting businesses operating in the funeral sector.
Unique features of this website build
We were happy to help Eimer grow and diversify her business online. As her business has changed so has her design to ensure it attracts the ideal customer.
We conducted thorough SEO Research and implemented SEO across the website. This research allows Eimer to rank for terms that her ideal customers search for.
Eimer got professional photos taken and built new calls to action. We have added all this wonderful content to her new website. This content is seamless in the new design and shows funeral businesses how she helps.
Eimer has an integrated booking engine to capture new leads online. This booking system connects to her Google Calendar to manage clients.
We have connected Eimers website to her payment system. Now she can capture new payments online and automate her subscription services.
Other features included in FIT Social Media's Website:
Website designed with new colours and style for Funeral sector
Individual pages for each of her offerings
Online booking system
Email Marketing integration
Can accept online payments for her subscriptions
Custom contact form for inquiries
A blog feed for news and updates
Testimonials Feed and Sliders
Frequently Asked Questions feed optimised for Google search
Full SEO optimisation throughout the site.
PDF Documents embedded in the website
Calls to action throughout the website to encourage interaction
Social media feeds and share buttons
Eimer is an expert in social media and exciting things are happening in her business. She has a wealth of knowledge in her social media blog. I urge any business to read her blogs as they are full of good advice.
It is great to see Eimer's business is growing and we wish her every success in the future. We enjoy supporting Irish businesses and Eimer is a joy to work with. If you would like to learn more please visit her website at https://fitsocialmedia.ie/ . You can also connect with Eimer on Social media using the links below.
If you would like a website like Eimer's please let us know and we will help you
Audio Description of this Website Build
See this website in action: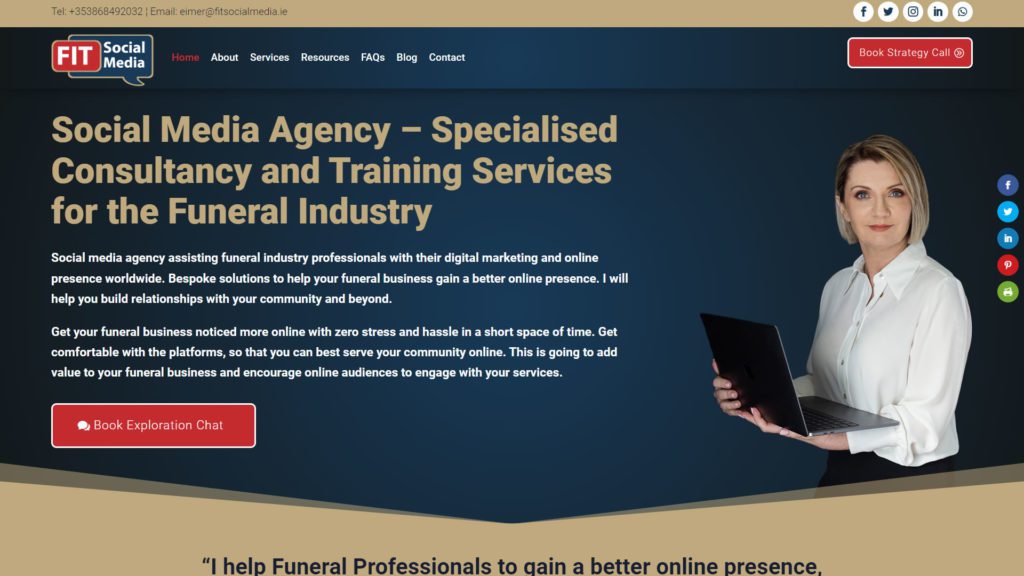 Website URL: https://fitsocialmedia.ie/