Business Success Story for Global Training Solutions 
Global Training Solutions are a safety training provider based in Dublin 15. Alan, the founder, approached us in 2020 to help them build a new website. They wanted to allow people to book their courses online. They also wanted to showcase all their safety courses. This new website showcases their upcoming safety training in a stylish way. We use bold colours and inviting graphics to engage their visitors.
Global Training Solutions (GTS) now get more bookings through their new website. We designed the booking system to be very easy to use. The business is also ranking better in Google Search and in Google Maps. The booking process is very user-friendly. Within two clicks people can;
Book their place
Get an email to confirm their booking
Get an option to add it to their calendar.
This prevents no shows and improves attendance. We worked with the team in GTS to help them showcase their latest courses online.
Language Translation
Global training solutions offer a wide variety of courses. They offer many of their courses to;
The building & construction sector
Health and safety sector
Warehousing sector.

Their Romanian team offers their safety training courses in Romanian. We designed their website to translate for their Romanian clientele. People can book specialist Romanian courses. They attend their premises and receive courses through Romanian by the Romanian staff. We put software into the website that translated the pages, posts and booking engine. The staff can then go in and edit those Romanian translations to make them more accurate. They now target Romanian people through their social media.
About Global Training Solutions Safety Training:
Global Training Solutions offer training to individuals and businesses. They are experts in safety training. They also offer safety consultancy services. They offer a range of certified online training courses. These courses allow you to learn at your own pace. You can attend from your home or place of business.
All their courses are GTS Certified. Some courses carry extra certification e.g. HSA, RoSPA. They help businesses understand the importance of workplace safety. Their safety consultancy services help improve health and safety practices at work.
Global Training Solutions use all their own machines in contrast with their competition. They are in an excellent location in Dublin which makes reaching them simple. They offer onsite and online training to make it more accessible to all clients. GTS offers specialist consultancy and assessment of the premises and safety systems. Their old website lacked clarity on what they offered and how to book in with them.
WATCH VIDEO: Global Training Solutions Website Scroll
Unique features in this Course Booking Website:
We built this bespoke website for Global Training Solutions in 2020. It is bold and inviting to entice interaction. Unique features of this build include:
Course booking
Online course pass sales
Automate email responses
Graphic design
Multi Page website design
User experience design to improve browsing
Colour palette to suit the brand
Contact form for general inquiries out of hours.
Click to call buttons
Calls to action throughout the website
Opening hours
Google Maps
Information on courses offered
Full SEO optimization throughout the site.
Their business is evolving and expanding its catalogue. We wish GTS all the success in the future and look forward to continuing our relationship with them. If you would like a booking website like Global training Solutions please let us know and we will help you.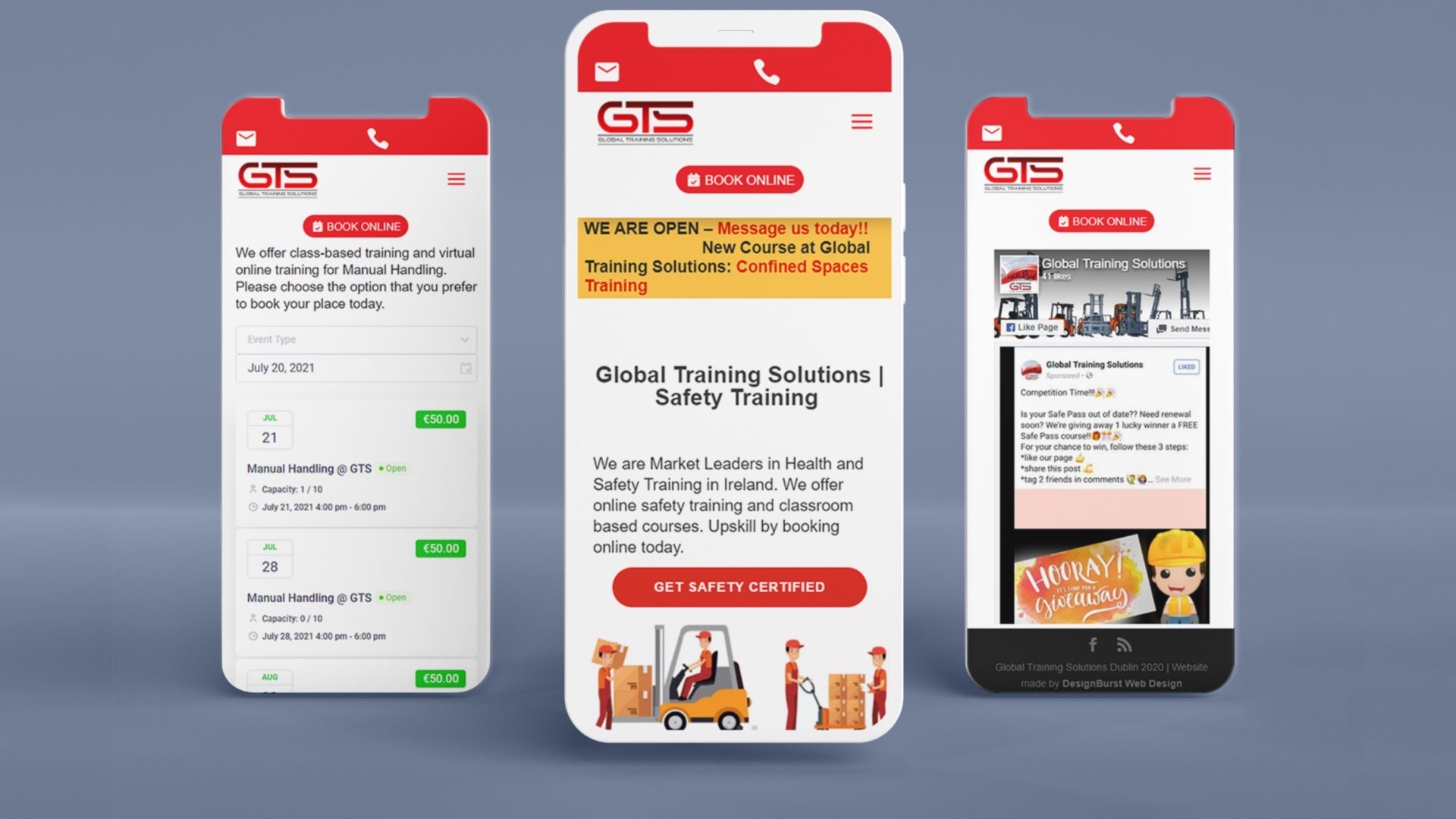 Global Training Solutions Mobile Responsive Website Design