Business Success Story for NOW Media Content Creator Services
Now Media offers Live content creator services. They work with international clients and businesses across Ireland. Marie-Claire approached us in 2020 to build a website for Now Media.
Marie-Claire is bubbly and energetic and wanted this reflected in her new website. She wanted to showcase how much fun she has at events. Her brand is a bold red colour and we wanted to use this to encourage action.
She helps businesses stream live content.
She wanted to explain her content creation services without overwhelming her audience. We encouraged her to write out her content like an informal chat. This has helped with readability of the website.
We performed SEO optimisation through Marie-Claire's website. She is familiar with this concept as it is a crucial part of content creation services.
We integrated an online booking system for Now Media. This booking system allows people to schedule appointments with Now Media. It also allows Marie-Claire share upcoming training events and sell tickets online. Marie-Claire can also use her new website to accept online payments for her services.
The styling and colours of the website are very appealing to visitors. The calls to action have worked in driving customers to contact Now Media. The automated Booking System helps people contact Marie-Claire out of hours.
We performed Local SEO optimisation on this website. It has helped Now Media to start ranking in Google.
About Now Media content creator services:

Now Media provide onsite Event Social Media Management and Creation. They specialise in helping event owners and managers at events. Streaming live content increases the footfall for businesses at events.
Marie-Claire and her team ease stress by taking over this activity. This allows the businesses to focus on customer interactions. The content created also builds their brand's reputation online for future events.
Now Media offer a variety of content create services including:
Social Media Management at events
Content Creation at your event
Online Training on how to create content (photos/videos)
Video Production services
Unique features in this Content Creator Services Website:
We built Marie-Claire a bespoke website to show off her content creator services. We designed this website to capture her personality and energy. Some unique features of this build include:
Scrolling website design. This feels like social media
User experience design to improve browsing
Interactive booking calendar
Ecommerce integration
Online Course ticket sales
Opening hours
Google Maps
Colour palette to suit the new branding
Contact form for inquiries
Click to call buttons
Calls to action throughout
Simple, scrolling interface to guide the viewer
Full SEO optimization throughout the site
If you would like a content creator business website like Marie-Claire's please let us know and we will help you.
See this website in action: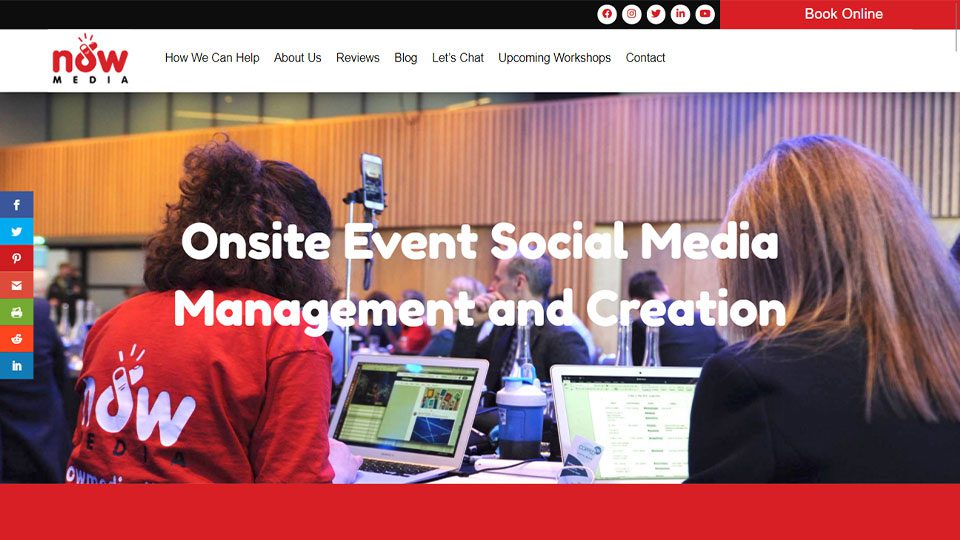 Website URL: https://nowmedia.live