Room with a View- Window Cleaner Website Design
"Room with a View" window cleaner website design, completed in February 2019. Andy Dunne's new website showcases his window and building cleaning services. We designed it to help his business take bookings 24/7.
Window Cleaner – What Andy asked for with his website design…
Create a new website for his window and building cleaning business
Showcase the photos of jobs he has completed to date in the new room with a view website
Have a booking system that allows people to enquire about his services and prices any time
Include contact information for room with a view on the website so that people can get in touch.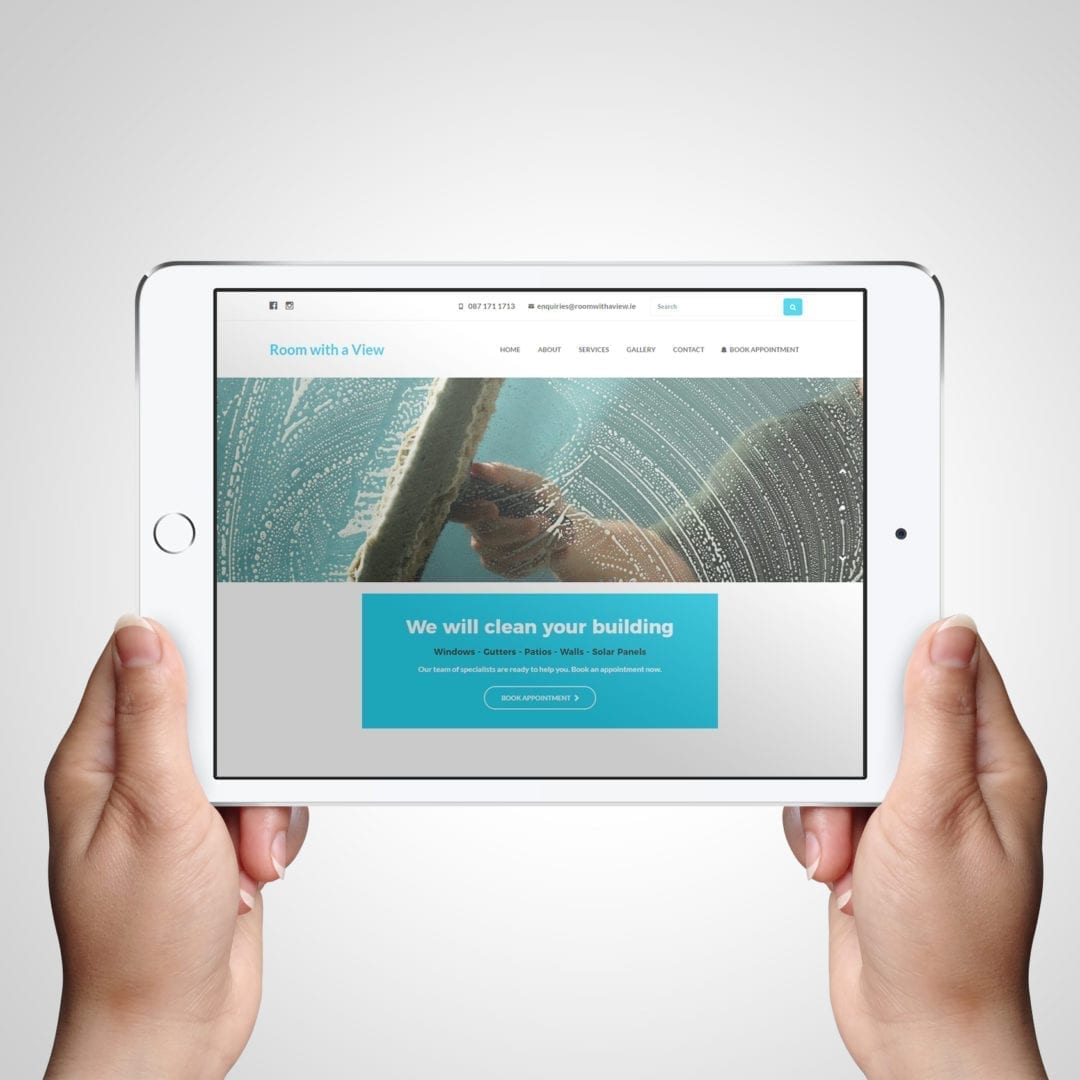 What we delivered in this website for Room with a View cleaning services
A stylish and modern website design
An elegant booking system that displays immediately on the Room with a view website
Room with a view Facebook page feed display.
Facebook Messenger contact button
An overview of the types of cleaning services that Andy provides
Mobile, Tablet & Desktop responsive website
Speed optimised design to make sure the Room with a view website loads fast.
Call to action buttons to help people contact Room with a view via the website.
Search Engine Optimisation (SEO) to help the Room with a view website rank in Google
Advanced popup enquiry form
Reviews of our web design services
Jill O'Meara
2020-10-05T10:32:58+0000
Design Burst came highly recommend to me by LEO Meath. Marianna became my mentor and I had no idea what we cover in

...

digital marketing but I just knew I need help as I was self taught. OMG is all I can say. She is a listener and tailored each session [all done over zoom] by your needs. She record the sessions so I could go over the material learnt. Marianna is a dream to work and I highly recommend Design Burst. She is just fantastic.

read more
Linda Hickey Breathnach
2020-04-16T17:38:14+0000
Very happy with Designburst and the website they created for me, highly recommend
Ryan Mcsharry
2019-06-04T12:49:05+0000
Design burst came highly recommended to me when I was researching who I would get to design our new company website.

...

Marianna made the whole process extremely easy and It just flowed from inception to completion.. I found Marianna to be full of creative ideas, offering sound advice throughout. Couldn't recommend design burst highly enough. Ryan- RMS constructions

read more
Andrew McCormack
2019-04-09T20:16:13+0000
After finally making the decision to have a website created I searched and spoke to many people regarding the design

...

and creation, most spoke about various items which was language I wasn't familiar with. I found Design burst which is also Co Meath based and spoke to them explaining to them my needs. I was so amazed with my outcome, kind courteous and massive value for money the care I received was nothing but top class. I would truly recommend Design burst for all your website needs. Thanks kindly Design Burst.

read more
Stephen McDonnell
2019-03-14T22:38:14+0000
Really happy with Marianna's work on our new logo. She got the brief spot on and delivered high quality product that I

...

could use across many media Chanel's immediately. Being a small business it's great to see the level of quality I expect to deliver being held high by others and I'll be singing praises here.

read more
Owen Duignan
2015-05-14T12:17:55+0000
Niall Quinn
2013-10-05T19:02:59+0000
Niall Quinn
2013-10-05T19:02:59+0000
Noel Joyce
2013-08-01T09:54:05+0000
Chris Dermody
2013-06-21T14:49:23+0000
best place in the world ever!
Next Reviews