Therapy & Training – Psychotherapist Website
Website design for Linda's psychotherapy practice Therapy and Training, completed September 2019. We designed this website to help Linda showcase her psychotherapy and counseling services. We wanted to encourage visitors to engage with Linda and improve her online presence.
Therapy and Training website – What she asked for…
A new website for her business
Simple design which is easy to navigate
Separate pages for each type of service she offered
Contact details of the business on display
Showcase her business as friendly and approachable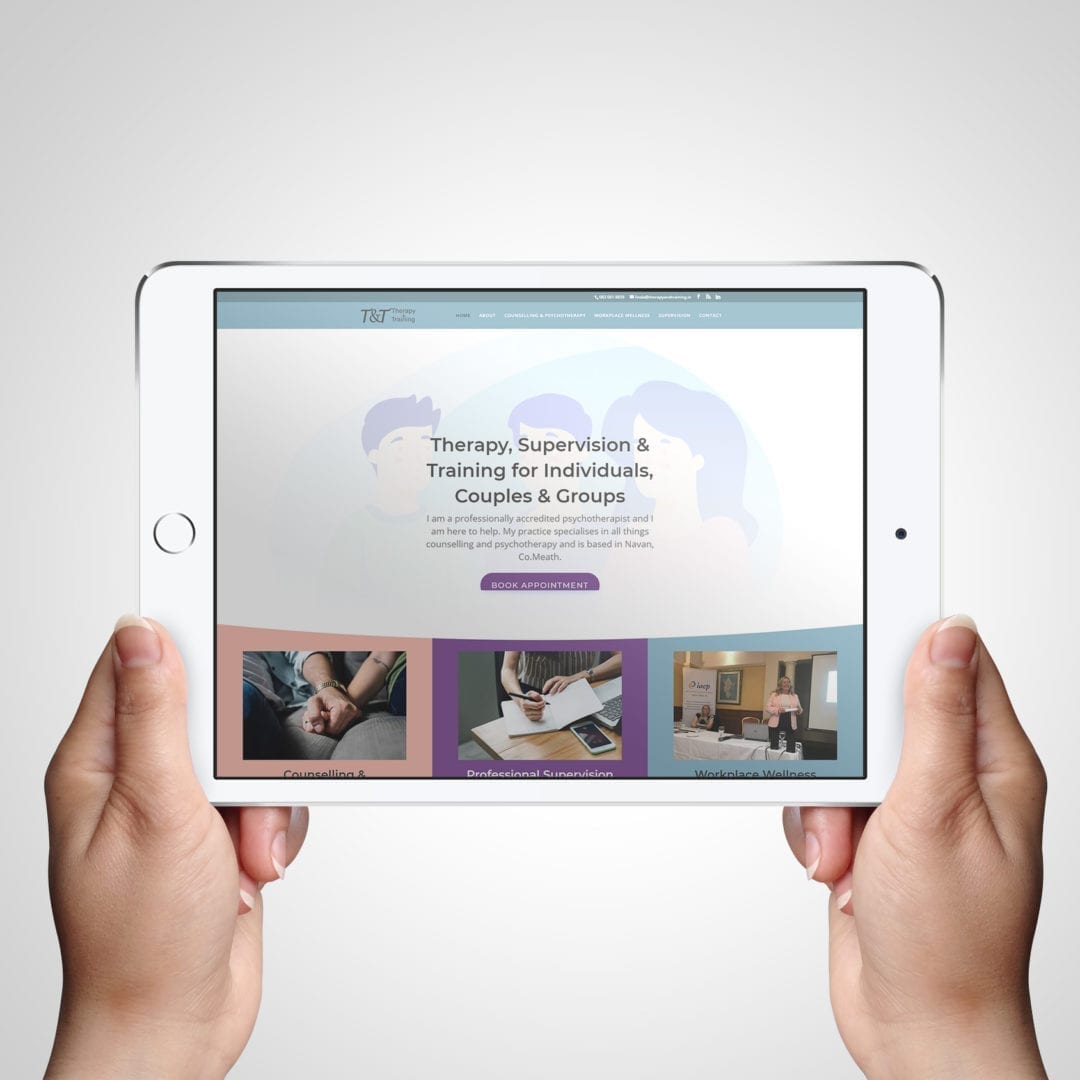 What we delivered in this web design project for Linda
Modern and stylish website design
Sourced images to use for her counselling services
In depth explanations of the services that Therapy and Training offers
Answers to common questions to help visitors feel more at ease approaching Linda
Google my Business setup to put Therapy & Training on the map for psychotherapy in Meath
Website Speed optimisation and superfast hosting
Gmail for Business setup
Full search engine optimisation (SEO)
This website has a 'Content Management System' (CMS), and we will be sending Linda training
videos on how to update her website content as her business grows.
Mobile, Tablet, and Desktop responsive website design.
Website design that is easy for people to browse
Reviews of our web design services
Jill O'Meara
2020-10-05T10:32:58+0000
Design Burst came highly recommend to me by LEO Meath. Marianna became my mentor and I had no idea what we cover in

...

digital marketing but I just knew I need help as I was self taught. OMG is all I can say. She is a listener and tailored each session [all done over zoom] by your needs. She record the sessions so I could go over the material learnt. Marianna is a dream to work and I highly recommend Design Burst. She is just fantastic.

read more
Linda Hickey Breathnach
2020-04-16T17:38:14+0000
Very happy with Designburst and the website they created for me, highly recommend
Ryan Mcsharry
2019-06-04T12:49:05+0000
Design burst came highly recommended to me when I was researching who I would get to design our new company website.

...

Marianna made the whole process extremely easy and It just flowed from inception to completion.. I found Marianna to be full of creative ideas, offering sound advice throughout. Couldn't recommend design burst highly enough. Ryan- RMS constructions

read more
Andrew McCormack
2019-04-09T20:16:13+0000
After finally making the decision to have a website created I searched and spoke to many people regarding the design

...

and creation, most spoke about various items which was language I wasn't familiar with. I found Design burst which is also Co Meath based and spoke to them explaining to them my needs. I was so amazed with my outcome, kind courteous and massive value for money the care I received was nothing but top class. I would truly recommend Design burst for all your website needs. Thanks kindly Design Burst.

read more
Stephen McDonnell
2019-03-14T22:38:14+0000
Really happy with Marianna's work on our new logo. She got the brief spot on and delivered high quality product that I

...

could use across many media Chanel's immediately. Being a small business it's great to see the level of quality I expect to deliver being held high by others and I'll be singing praises here.

read more
Owen Duignan
2015-05-14T12:17:55+0000
Niall Quinn
2013-10-05T19:02:59+0000
Niall Quinn
2013-10-05T19:02:59+0000
Noel Joyce
2013-08-01T09:54:05+0000
Chris Dermody
2013-06-21T14:49:23+0000
best place in the world ever!
Next Reviews