Your Financial Planner Website Design
Your Financial Planner website design completed in May 2019. We designed this website to help Dylan get his father's business online. It showcases the services that his financial planning company offers. Dylan works for Niall G Lynch brokers in Athlone and wanted to blog to break down barriers with new clients
Your Financial Planner Website – What Dylan asked for…
Create a new website for Niall G Lynch Financial Planning and Insurance Brokers.
Showcase the products that they offer in an easy-to-understand way
Create a blog area for Dylan to update visitors
Include contact information so that people can get in touch.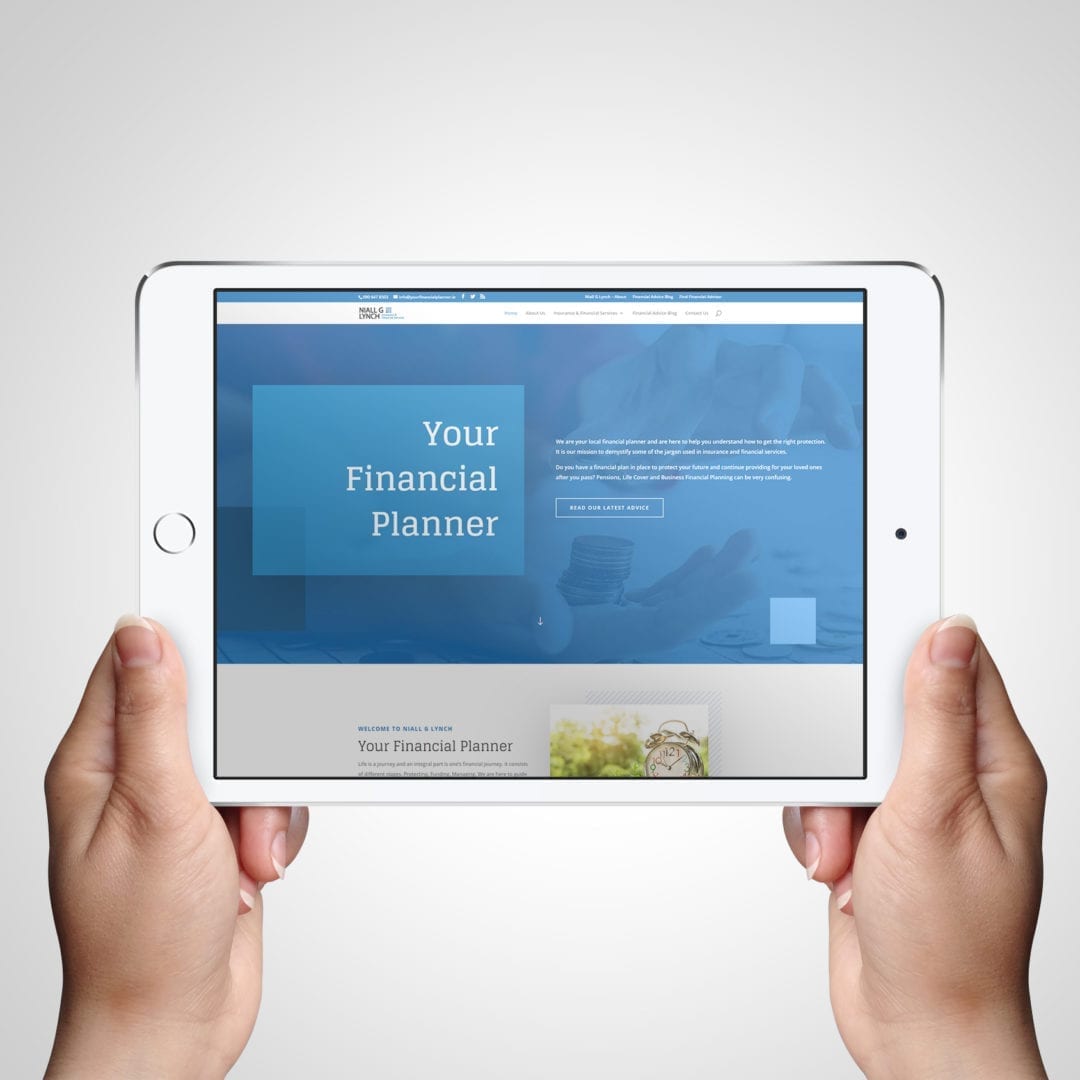 What we delivered in this web design project for Dylan
A comprehensive brochure website that showcases all that Niall G Lynch has to offer
Modern and stylish website design
A dedicated homepage that acts like a landing page for the business
Dedicated service pages with detailed descriptions in a stylish layout
A Blog area to allow Dylan share his knowledge with potential customers online
Full training on how to blog.
A contact form with special spam filtering
Mobile & Tablet & Desktop responsive website
Speed optimised to load this blog fast
Clever 'calls to action' to entice visitors to reach out to Dylan and the team at Niall G Lynch
Search Engine Optimisation (SEO) to make the website visible to Google
Google My Business Listing
This website has a Content Management System (CMS). Dylan will be able to update his own blog posts 24/7. He has full back end access and we built it to be very easy to update.
Reviews of our web design services
Jill O'Meara
2020-10-05T10:32:58+0000
Design Burst came highly recommend to me by LEO Meath. Marianna became my mentor and I had no idea what we cover in

...

digital marketing but I just knew I need help as I was self taught. OMG is all I can say. She is a listener and tailored each session [all done over zoom] by your needs. She record the sessions so I could go over the material learnt. Marianna is a dream to work and I highly recommend Design Burst. She is just fantastic.

read more
Linda Hickey Breathnach
2020-04-16T17:38:14+0000
Very happy with Designburst and the website they created for me, highly recommend
Ryan Mcsharry
2019-06-04T12:49:05+0000
Design burst came highly recommended to me when I was researching who I would get to design our new company website.

...

Marianna made the whole process extremely easy and It just flowed from inception to completion.. I found Marianna to be full of creative ideas, offering sound advice throughout. Couldn't recommend design burst highly enough. Ryan- RMS constructions

read more
Andrew McCormack
2019-04-09T20:16:13+0000
After finally making the decision to have a website created I searched and spoke to many people regarding the design

...

and creation, most spoke about various items which was language I wasn't familiar with. I found Design burst which is also Co Meath based and spoke to them explaining to them my needs. I was so amazed with my outcome, kind courteous and massive value for money the care I received was nothing but top class. I would truly recommend Design burst for all your website needs. Thanks kindly Design Burst.

read more
Stephen McDonnell
2019-03-14T22:38:14+0000
Really happy with Marianna's work on our new logo. She got the brief spot on and delivered high quality product that I

...

could use across many media Chanel's immediately. Being a small business it's great to see the level of quality I expect to deliver being held high by others and I'll be singing praises here.

read more
Owen Duignan
2015-05-14T12:17:55+0000
Niall Quinn
2013-10-05T19:02:59+0000
Niall Quinn
2013-10-05T19:02:59+0000
Noel Joyce
2013-08-01T09:54:05+0000
Chris Dermody
2013-06-21T14:49:23+0000
best place in the world ever!
Next Reviews