Grow Your Business Online
Today I want to share how to grow your business online with 5 easy web design tips. I have been designing websites for many years and I have compiled this list so that you can boost your business today. This week we launched a new website for a client BL Neon Signs and will use it to demonstrate how we helped them change their online presence.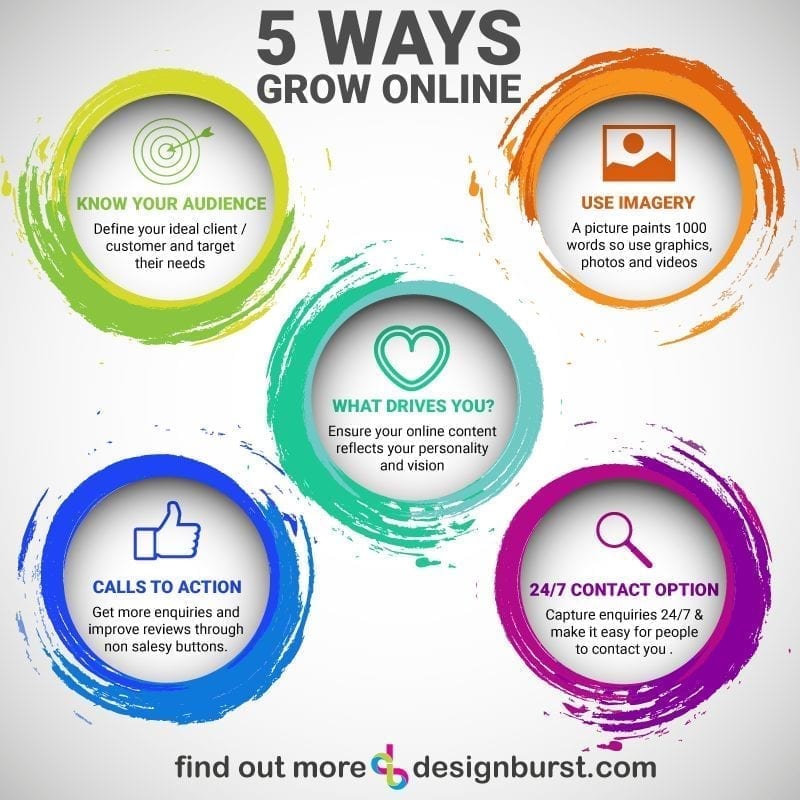 1) Know What Drives You
When I work with new clients I like to develop an in-depth understanding of what drives them. This allows me to develop an online presence for them that reflects their personality and vision.
Reconnect with your mission to grow your business online
It is very important to know what drives you so that you attract the right audience. In our recent web design for BL Neon we helped them to reconnect with their mission to align their brand more with their personalities and vision. BL Neon have been operating for over 30 years and have a massive client base including RTE, Virgin Media and Teeling Whiskey to name a few.

At first I assumed that they wanted to keep the corporate feel that their original website portrayed and just wanted to refresh the content. While talking to Ciaran over the phone I asked him to describe his favourite project and then everything changed. His tone of voice and enthusiasm completely changed as he described a neon phoenix they had worked on for Teeling Whiskey. I knew that I needed to capture this identity in their branding and in their website. Ciaran then send me a link to a video of them working in the studio making the phoenix and I knew I had discovered a piece of gold.
This video really showcases the craftsmanship that goes in to every sign that they make. In the video the founder and neon glass blower Bernard Larkin says
The specialised end of things, the one-off commissions – That's what gets me up in the morning and keeps me doing what I do.

Bernard Larkin – BL Neon Signs
Follow your passions always
It was important for me to know what drives the team in BL Neon to succeed. It is the creative process more so than the big brands that they have worked for. This was an important revelation because to grow your business online you need to update your content regularly. If you are not doing what drives you and are not passionate you will not update your fans regularly. Knowing what drives you will help you build your audience and will drive your passion.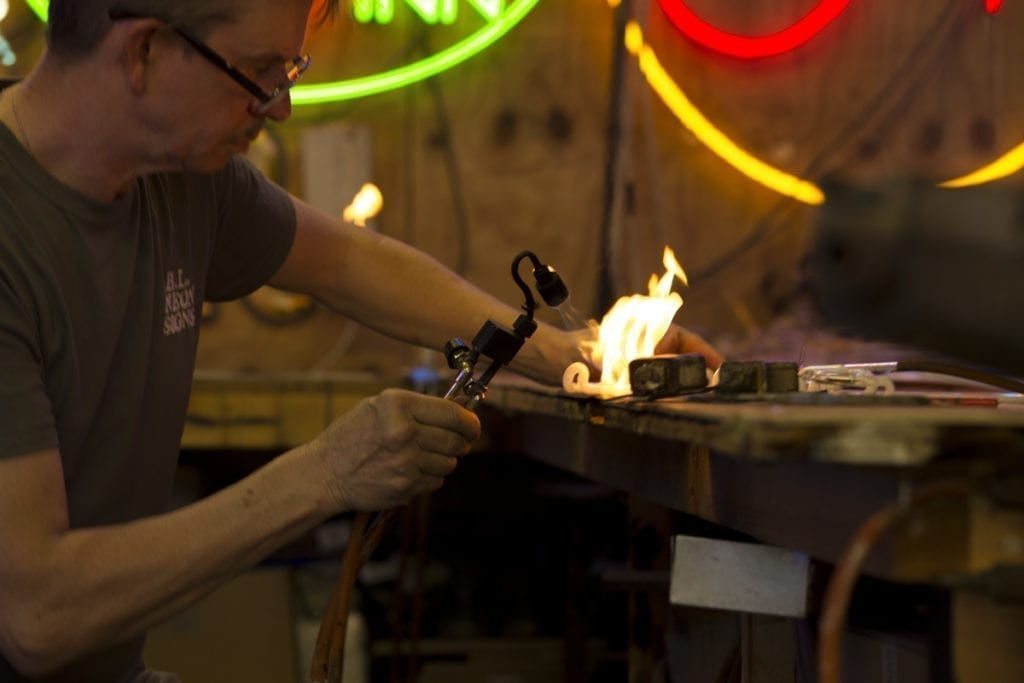 2) Know Your Audience
Before I start planning a website I always make sure that it is designed with a specific audience in mind. BL Neon's old website looked ok and to most people there was very little wrong with it. However Ciaran and the team noticed that they were not getting business through it and felt they needed it overhauled. After we had explored what makes the BL Neon team tick I asked them about their ideal customer.
Define your Ideal Customer to grow your business online
Ciaran explained how they love working with clients who respect the design process and the craftsmanship that goes in to each creation. This sort of client often returned for repeat business and proudly showcased their work which lead to referrals. Ciaran then explained that 90% of their sales were referral based as very few people are informed of how neon signs are made.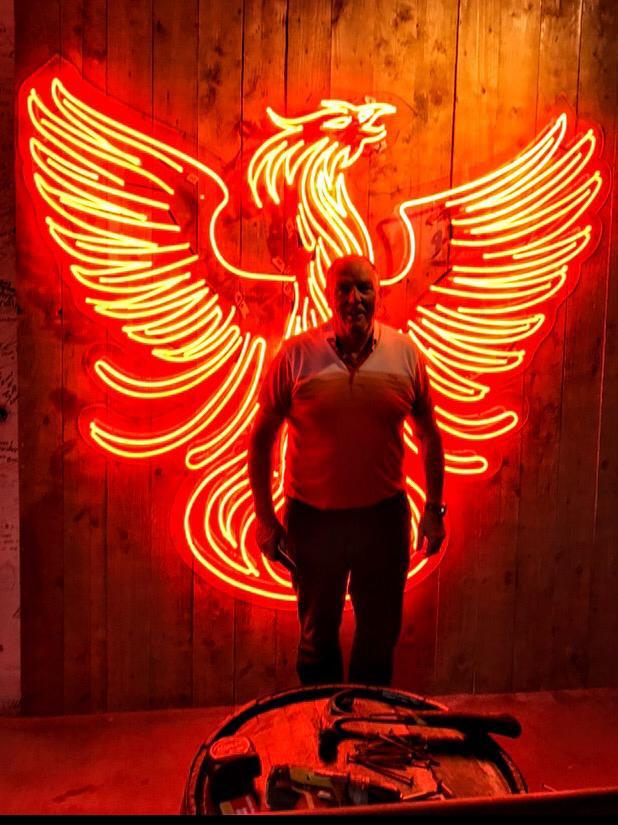 Connect your ideal customer with your passions
It was clear to me that they needed to ditch the corporate vibe and focus on showcasing their brand as "master craftsmen" instead. I explained that their ideal audience would be businesses who are acknowledging the current trends for 80s design and the massive hipster movement. I knew that Ciaran and the team at BL Neon would provide quality content to this new audience. This would make blog writing easy for them and more importantly add value to their audiences businesses.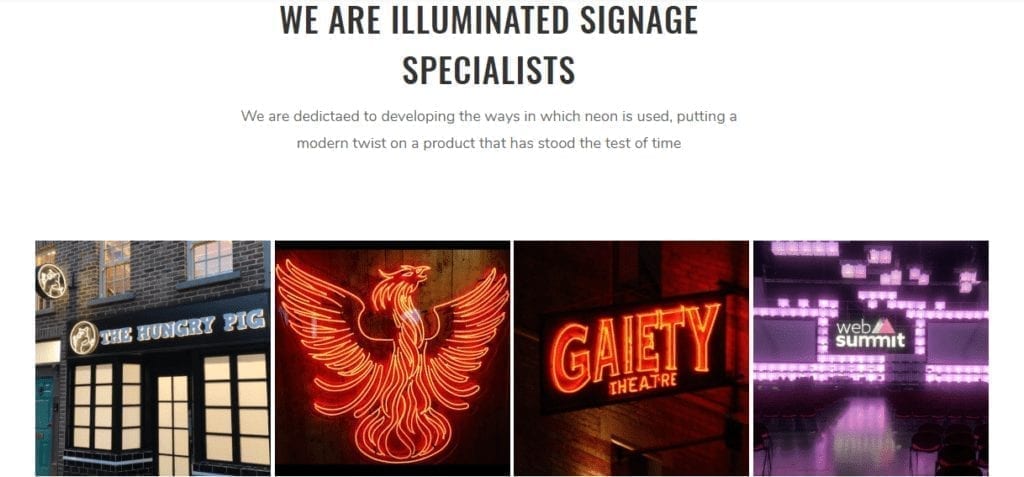 Explore the needs of your ideal audience
Try to develop an in-depth insight into who you would like to "speak to" with your website. If you are struggling think of a project or a client that made you really happy. What made them happy? What sort of personality did they have? How did you speak to them – formal or informal? Where were they based? What size was their business – Solopreneur, SME, Large Corporation? When you know the answers to these questions it will be easier for you to get engagement with your website content and grow your business online.
3) Use lots of imagery
A picture paints a thousand words. When you are trying to convey your offering to online audiences quality pictures are key. You can use photos, graphics and videos to attract new customers.
Choose relevant images
The images and graphics that you use should be in line with your vision and the needs of your audience. Choose images that will help your audience understand what you offer and how you are different from others. For BL Neon I incorporated lots of imagery in to the website and optimised them with keywords that speak to their ideal customers.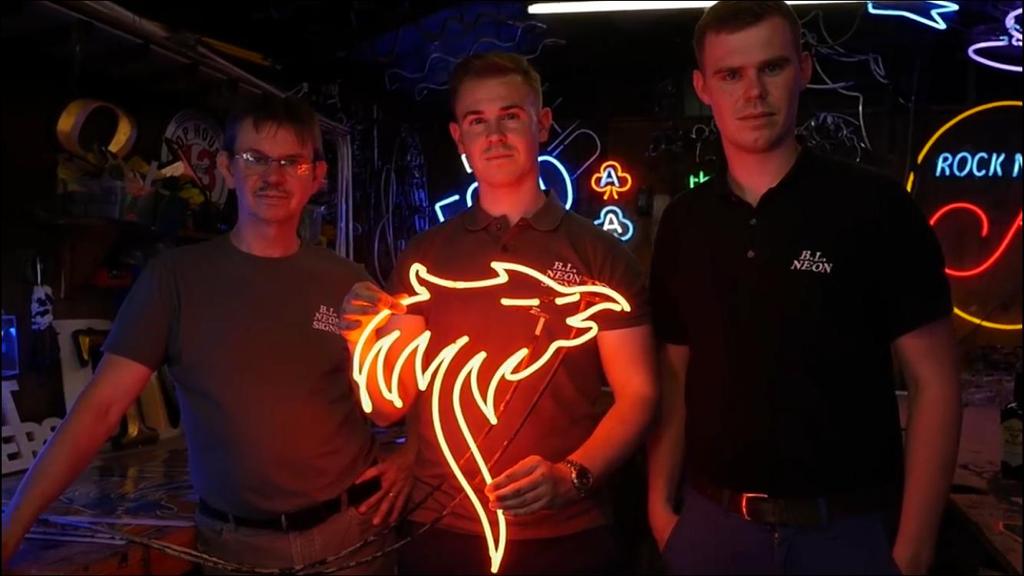 4) Include Calls to action
To grow your business online you need to improve your click through rate. It is important to get people to perform actions on your website for it to get ranked in Google. Simple things like clicking an image or button shows that your content is relevant to audiences. I wanted to improve engagement in the new BL Neon Website so I added calls to action throughout.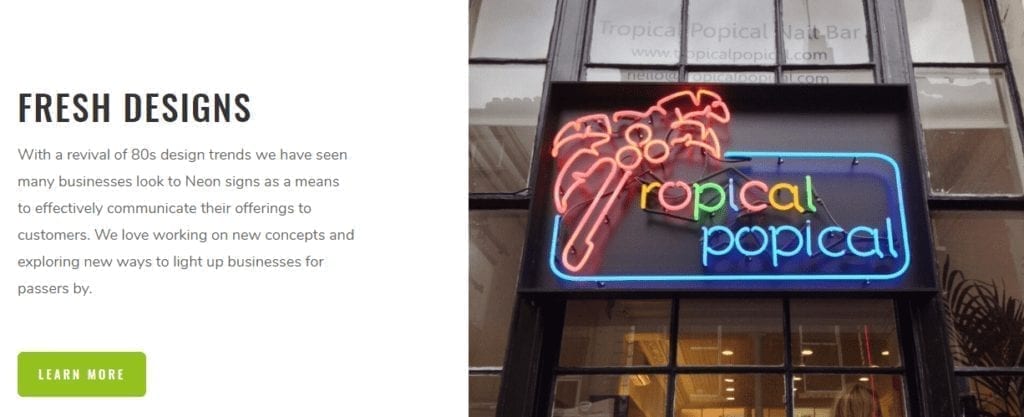 Try not to be too salesy
People generally do not want to read content that is sales driven so I included calls to action that are relevant and add value to the audience. The majority of the calls to action on the BL Neon Website are links to help the audience learn more and see their work.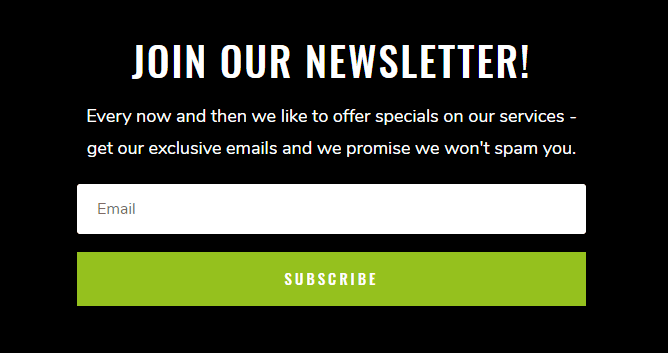 5) Make it easy for people to get in touch
Your website should be able to handle new enquiries 24/7. Your business might operate from 9-5 but your website should operate out of hours to capture people's questions. There are a variety of ways to do this and again I will use BL Neon as an example of how to do it right.
Put Contact Details in your Footer
When people get a business referral or get sent to your website by Google one of the first things they will do is look for your contact details. This allows them to understand where you service and how they can contact you. It immediately builds trust with your audience. Putting the contact details in a website footer makes it easy for people to contact you and see that you are a legitimate business.

Include Links to Social Media
It is important to let people know you are active on social media as it will allow you to show up on their timelines if they like your pages. Include links to social media on your website and include social media feeds of your favourite platform. BL Neon are active on Facebook so I included their Facebook feed in their footer so that their website updates regularly alongside their facebook feed.
Include a Contact Form
A contact form allows you to capture people's enquiries out of hours and is a great tool to grow your business online. It also allows your audience to contact you rapidly with ease. When people are writing an email enquiry it can take time to ensure that it is phrased correctly and it is much more formal – this can deter some people as it seems like effort. Often a person remembers to contact you out of hours or while in a meeting so phoning you is not easy for them. So make it easy. Include a contact form that will automatically reply to their enquiry to assure them that you will respond at your earliest convenience.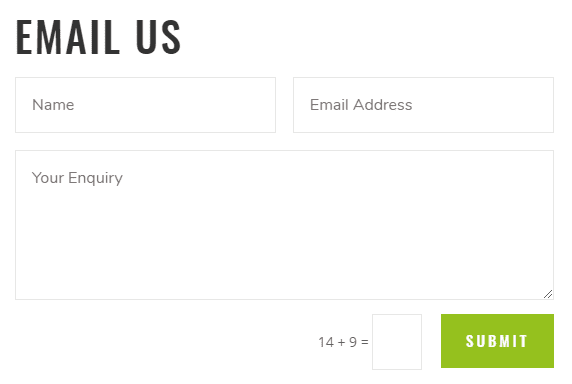 Remember to comply with General Data Protection Regulation (GDPR) in your website and include some form of Recaptcha to prevent bots attacking your website.
Need more help with your Online Presence?
I hope that these 5 tips help you to grow your business online in 2019. Your website is a window to your business that can be viewed anytime by your ideal audience. We can help you reach new customers and really showcase your brand with our Web Design services. If you are interested in getting assistance please get in touch. Make 2019 your best business year yet.