It was a pleasure to design the new logo and branding for local business Confident Potential last week. Stephen McDonnell is in the process of launching his latest venture in Meath this week and wanted a new brand to reflect the great services that he will be providing to businesses in Ireland and overseas.
Confident Potential – A new business in search of identity
Stephen McDonnell is no stranger to the business world and has worked with businesses internationally for many years. He runs a coaching agency (Timesworth Ltd) alongside his wife Connie where he has seen great success with businesses needing to change their entire ethos to drive sales.
Stephen is retained advisor to some major electrical and automotive brands in Ireland and is at the forefront of vehicle electrification and sits on the board of the national vehicle recycling scheme (ELVES)

Stephen McDonnell – Timesworth Ltd
Confident Potential is a new business entity for Stephen and Connie where they plan on mentoring businesses remotely via their online platform. Like any new business entity, it needed an identity for new customers to build trust and understand offerings at a glance.
Understanding the needs of customers
Every time I get approached about developing a logo and branding for local business my first question is "Who is your ideal customer?". I am talking about that customer who loves what you do, worships your business mission and repeatedly shouts your praises from the rooftops without any prompts/payment. The more you know your customer needs the more familiar they will be with your new brand because it reflects their needs.
Stephen holds an advanced Diploma in Coaching with Neuroscience. This gives him a competitive edge in understanding the needs of his ideal customer. Through operating Timesworth Ltd Stephen encountered many SME's and Solopreneurs that found it hard to get clarity while operating their business. As a small business owner I can understand how difficult it can be to feel successful while working long hours and constantly pushing to build a strong customer base.
Confident Potential aims to capture the attention of small business owners and elevate their profiles and sales through building clarity, vision and helping them "thrive not survive" in their day-to-day operations.

An overview of Confident Potential based on my meeting with Stephen and hearing his business ideas.
A logo that will build the brand
With the company mission and the ideal customer for Confident potential, it was time to develop new logo ideas. I sketched out dozens of new ideas in a brainstorm and settled on 3 personal favourites to present to Stephen. All of the logos were designed as vector graphics. They were presented to Stephen in black and white. This would allow him to focus on choosing a logo based on legibility and clarity.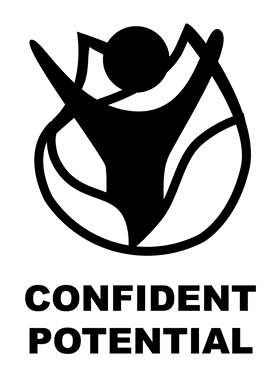 The first idea focussed on encapsulating that emotion that people feel when they are successful. It portrays a silhouette emerging from flames or a blooming flower to symbolise growth and confidence.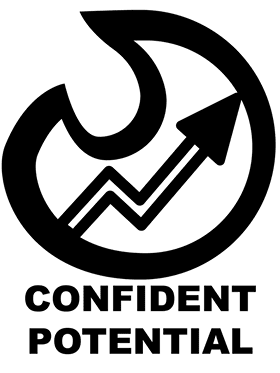 Confident Potential Logo Idea 2


The second idea focussed on showcasing business growth and fueling the potential of businesses. It is a modern styled flame graphic with an arrow symbolising growth and success.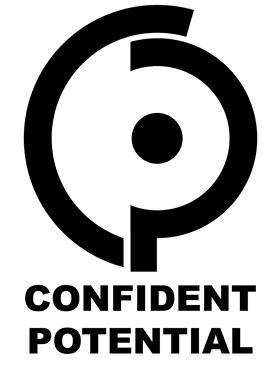 The third idea focussed on setting and meeting targets while encapsulating the brand letters. It is comprised of a C and a P with a dot at the centre to make it look like an abstract target graphic.
After taking time to deliberate the new logo ideas Stephen decided to proceed with Logo Idea 3. This excited me as I love its simplicity and flexibility for future applications e.g. as a tiny icon and a large 3D display at expos. It was now time to refine the design and get it ready for the brand pack.
Contrasting font style to build the brand
Choosing a font to complement the new Confident Potential Brand was tricky at first. I am a big fan of using Sans Serif Fonts in my logo designs. However, for this design I wanted to do something bold and confident with the brand. It needed to speak to Stephens business audience. It is always a bold move to mix serif (curly fonts) with sans serif (block letters). This time it really worked and the curls on the letters beautifully contrast the blockiness of the "CP" icon.

Upon Stephens recommendation, I extended the end of the "C" and it improved legibility and added balance to the icon. Now it was time to choose colours that allowed the brand to speak to the target customer.
Use of colour to attract ideal customers
New logos and brands need colours that speak to their ideal customers. The colours should always reflect the mission and ethos of the business too. For Confident potential 3 colours came to mind while designing the new logo:
RED: To symbolise power and to grab attention
BLUE: To symbolise confidence and build trust
TEAL: To symbolise tranquillity and confidence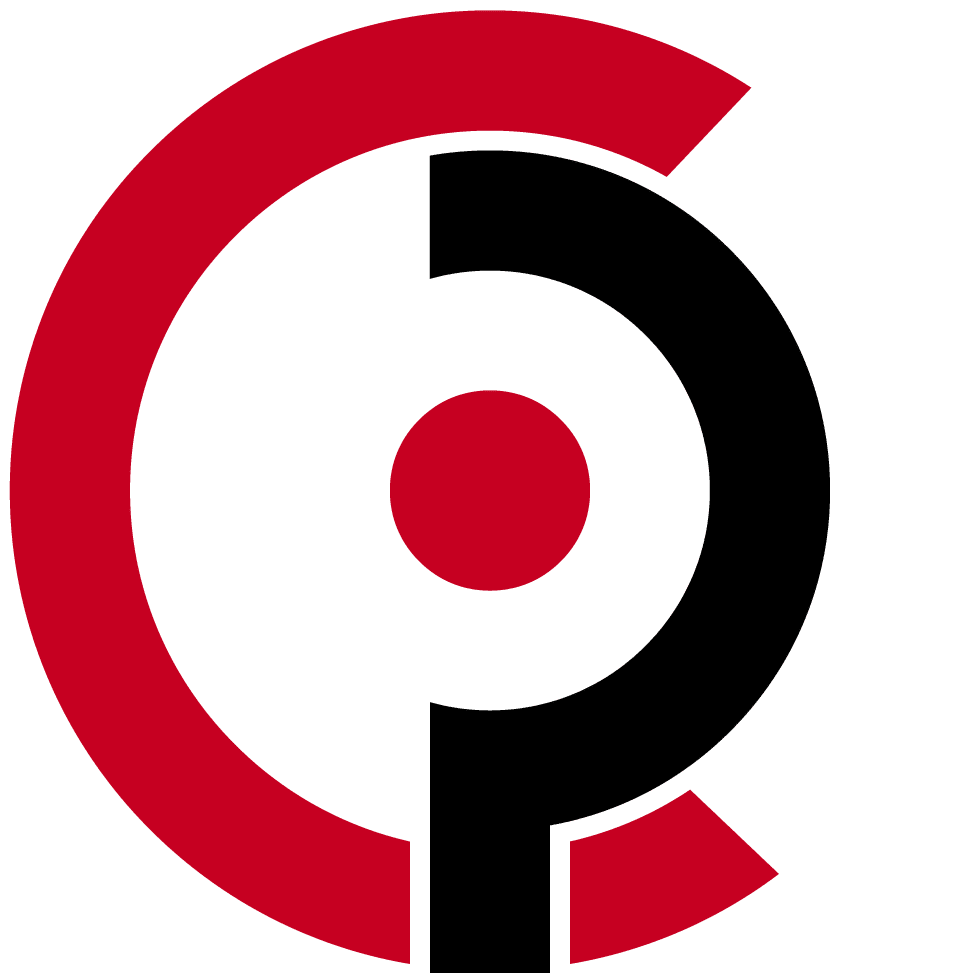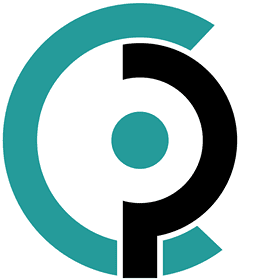 I wrote a blog post recently on how to choose the best colours for your brand which you may find interesting. Stephen chose to proceed with the blue colour as he felt it spoke most to his ideal customer and now it was time to build the brand pack.
Brand Pack for online and offline business promotion
While designing a logo and branding for a local business I always consider how the brand will be used in future applications. In a recent logo design for Elite Branding, I had to consider how the logo would appear when applied to a white van. In this case, I had to consider how the brand would look on Facebook and LinkedIn and how it would appear on Pop-up Banners at trade fairs.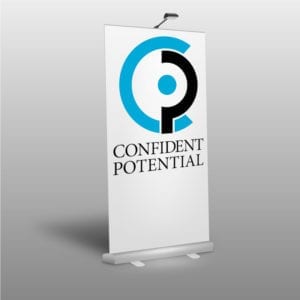 Stephens brand pack included all of the files he needs to get his banner printed for an event that weekend. The brand pack also included native graphic files so that he could scale them for any future applications. It was also important that the logo worked for Stephens new website and social media pages. The brand pack included graphics for Profile Picture and Cover Photos for Facebook.
Another happy client
Stephen was very happy with the final design and left an amazing review for us on Facebook:
Really happy with Marianna's work on our new logo.
She got the brief spot on and delivered high quality product that I could use across many media Chanel's immediately. 
Being a small business it's great to see the level of quality I expect to deliver being held high by others and I'll be singing praises here.

Facebook Review of our Brand Pack Service by Stephen McDonnell of Confident Potential
Logo and Branding for local business
I enjoy working with new businesses to build new brands. I will work with you to define a brand that speaks to your ideal customers and reflects your core mission. With over 10 years branding and logo design experience, I can bring a lot of attention to your new venture. If you require a new logo and branding for your local business please get in touch or buy a Brand Pack and get your logo in 1 week.